Memories fade away
March 26, 2010
Memories Fade Away

There once was a maiden,
And a prince from afar
Who fell deep in love
She spoke through her heart



They fell in love fast,
Nothing could separate them.
The love they share so strong, so strong!
Her voice his song, his anthem.

They settled down in a cottage in the country,
Making memories to last a lifetime.
They wanted to travel the world together
Peru, Jamaica, England for teatime.

How they loved each other!
Three kids in the yard to play.
And as his memories grew stronger,
Hers faded away.

They waited too long
To travel to distant lands.
As her memories faded, he sat by her side.
His head resting in his hands.

Her mind idles on,
He sits almost alone.
Dreams of traveling afar
Downsized to his home.

As I sing a pure melody
To travel to her ear.
I am his only company.
Singing for him and for her to hear.

As she grows tired and old,
He shrinks inside.
Her memories are gone,
They float away like the tide.

She once was a maiden ,
And he was a prince.
Fulfilling her every wish.
Now they sit alone.
Dreams of traveling the world,
swim through his mind like fish.

She loved him so,
And he loved her!
Now the sweet melody,
Is all that she can hear.

As she sits like a statue,
The love is still alive.
He promised her, the maiden
He would never leave her side.

As the daydreams grow old,
And the stories get tired.
He sits there and watches her breathe.

Hoping he will be by her side,
When her ongoing slumber ceases,
He wouldn't dare to leave.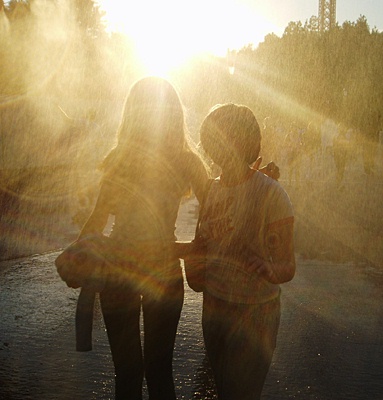 © Rebecca Y., Los Angeles, CA