A Minstrel's Tale
January 27, 2010
I marchèd slow across the plain
Beyond the River Eagle;
The thirst within my heart might drain
A quantity most regal.

Then in my path I spied a knight
So sagging on his grey steed
That any other lesser might
Not then an earthly risk heed.

That first day of our longest year,
When no man took my sad part,
I marchèd to that dire knight near
Instead of to my dear heart.

"Oh, Knight," sang I, in ancient song,
"I do not know your errand,
But is't that you have turnèd wrong?
For ride you Eagle Barrens."

The Knight soon lowered his grey gaze.
His harsh voice sounded queerly
Out through the broken, deathly haze
Of land not taken dearly.

"Minstrel, as thus, I see thou art,"
The Knight these words did utter,
"My steed and I have traveled far
And no road took for other."

"But Knight, if this is your true course,
Then what brought you this bad way –
What king did curse a knight and horse?
And what task were you set, pray?"

"Oh, Minstrel, cold and long the tale
Is that thou gaily ask'th now.
It is my tale of greatest fail,
So do not make me tell thou.

"I rode first light, first day, last year,
Out into my good king's land:
To bring nine heads of Dragons here,
And then win my true Love's hand.

"First day I rode across new snow.
It was not long before I
With anger struck the fatal blow
That teared the Creature's black eye.

"One two three four five six se'n eight.
These I slayed in coldest blood.
Heads I severed not in pure hate.
Heads I severed for m'lud.

"So bore I these to my good king,
Praying that in his kindness
My own Love's hand he might me bring.
But here I showed my blindness.

"'No, Knight, thou cannot,' my king said,
'Takest thou the hand of thy love
'Til 'fore me rest nine dragon heads.'
I left her there a White Dove.

"I left my Love to sally out
And one more scaly, black head
Cut-crush-kill, slice-slit, rip-rend rout.
To spill Life's vital, prize red.

"Oh, Minstrel, thou might know my pain
If thou imagin'st deeply
How I then felt, in pouring rain,
When Dragons eyed me meekly.

"So great was I in cutting down
They did not find me winsome.
The local Dragons, floor to crown,
Had fled my good lord's kingdom.

"I searchèd far, and found a witch
Who with her seeing magic
Did tell me words of blackest pitch:
'You may find Fate too tragic.'

"I crossed her palm and soon I learned
Where I might find my last kill.
She said, 'Ride on to land long-spurned.
The Dragon waits 'neath Grey Hill.'

"You know the Knoll, you know its place
In Mankind's wars of old days.
I prayed for any god's dear grace
And steeled myself for frore ways.

"O'er rivers, mountains, valleys deep,
Where harshest winds do still blow,
I rode with heart to surely keep
My word beneath the Black Crow.

"There flew the birds, there rose the Hill.
I bore my sword not lightly
As entered I to fulfill will.
But fire burnèd brightly.

"When out I struck with flashing steel,
The fire fairly parried,
So forcing me to shield and reel.
But still the Beast I harried.

"I dove into the fire's source
To cut-crush-kill, slice-slit true.
The earth – not hide – broke off my course.
This fire from underground blew.

"As there I stood with bruisèd face,
The Monstrous Beast crept near me.
We entered into vicious race
To see who'd be or not be.

"The battle wore me down to bone
But he had not yet grown weak.
So fled I then, always alone,
To make my camp at Grey Creek.

"Each day, I wakened, ate a meal,
And marched to spend the whole day
In battle with the Monster's heel,
Not traveling on my home way.

"We'd cut and crush and kill and slice,
We'd slit-rip-rend, but ne'er rout.
My Lady's hand not worth the price?
I feared each time I strode out.

"Then came the day I woke at morn
And did not see the Foul Beast.
I gathered camp with black heart torn
'Twixt freedom and my king's feast.

"My grey horse thanked me with his eyes.
Grey Creek, Grey Hill, they passed us.
To Dragon we said no goodbyes,
But rode into the dark dust.

"And so thou findst me, Minstrel dear.
I travel on the hard path
That takes me to my king from here
There then to face his great wrath.

"I have no money, wife or land,
Comp'ny only to thee lend.
So if thou'll takest my lonely hand,
I'd share my sup with thee, friend."

While split he bread for us sad two,
His hard hands shook with sorrow.
Soon Owl sobbed out his lonesome, "Who?"
We blindly sought the morrow.

The morning came and Eagle bled.
The Knight turned 'way his horse-grey.
And I, I took a diff'rent head
But waved the Knight on his way.

For say I to you silly Knights,
If kings would have these acts done,
Then let the kings fight out their fights
While we serve each one's own-sun.

So here I leave them killing men,
So here I let them fight on,
While walk I homewards, towards my Wren,
Forever singing my song.

Now leave them all their cut-crush-kill.
Yes, leave them all their rip-rend.
For I head home if one god wills.
I pray the gods that Knight mend.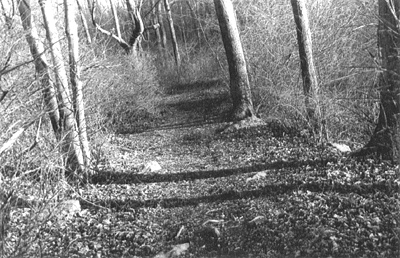 © Nicole N., Wilton, CT