The people eating bunny
April 5, 2009
Brush, Brush theres that rabit!
Hurry!
Snap!
I got him!

It was that red bunny with the black dots,
That came in your house and knocked down all your pots.
Unlike all the rest.
He who tore up your vest,
He is such a pest.
With his sharp teeth pointed out,
if you see him take a different rout.
poited ears like a cat,
Kick him off your mat!
Those eyes glowing red,
For this bunny will not accept bread
It has a diet of olny human head.

It excaped from the cage,
Out of the yard
Bottled with rage
Sneaking past your gaurd.

He could be in your house!
As quiet as a mouse
Waiting for you to come home in a while,
I'm tellin' you this sceene will be vile.
Waiting for his revenge,
'cause it was you who stuck him it that pen.

That little bunny,
He doesn't want your money.
Because your blood to him is sweeter than honey.
He's under your bed,
Pray to God he doesn't eat your head.

Closer,
Closer,
Closer you come.
But it's to late to run.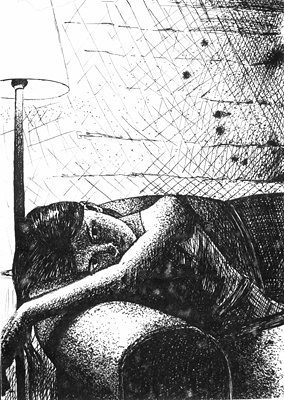 © Elisabeth R., Elmont, NY