Kiss me goodbye
April 4, 2009
The day a young girl locks eyes with him its the happiest day of her life.
The day a young girls heart is broken is the saddest day of all.

His smile is the cure to my tears,
His eyes left me in a never ending trance,
His touch left a smile on my face,
His kiss left a permanent scar.

He is my everything,
He is my world.
But he pushed me away,
He told me to leave,
He said it was pointless.
He told me to stop trying.

I sat up in my bed all night crying.
I wrote poem after poem,
I listened to song after song,
I counted scar after scar,
I shed tear after tear,
Screaming to the dead,
Begging them to take me away,
I don't want to be here anymore,
I can't be here anymore.

My soul fell apart that faithless night,
My heart shattered into a million pieces.
I'm walking without a soul,
I'm living, but my heart isn't beating.

I'm sorry I hurt you,
But trust me,
I didn't mean too.
Take me back,
Back into your arms.
Kiss me,
Before I fade with the dead.

I thought it was love,
It was just lust to you,
I still love you to death.

You always on my mind,
Your the guy I dream about,
Your the boy I love,
Nobody else.

Cut my wrist,
Watch me bleed,
Make me cry,
Sit back and watch.
Kiss me goodbye,
And bury me in black,
In your cold heart.
Where I can rest till the end of eternity.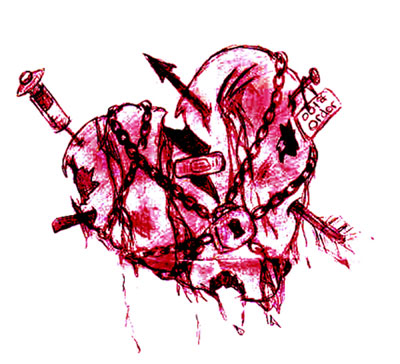 © Asia B., Hudson, MA