Ode to Monopoly
May 7, 2018
The board game
Worn by the experiences of games past
Rests elegantly on the modern glass table,
Covered in rainbow money
With metal dogs and cars
Trotting
And driving
Upon it.

By its side
Are anticipating fingers
Passing rainbow money
All around the boardwalk,
The short boy rolls the dice
With certainty --
His smirk is vexatious to
The girl across the table
Withdrawn
Loathing his conceitedness.

The game shows no mercy;
One careless slip
And you are sent to a lifetime in prison.
The game schemes
With the dice
To take down the hubris of foolish players;
The boy's smirk
Diminishes
As he hands over
The money.

Nobody knows why this really happens
The game is smart this way
It tricks its participants --
The boys
And the girls
All think it is skill
But really
The old man
With gray mustache
And black top hat
Is calling the shots.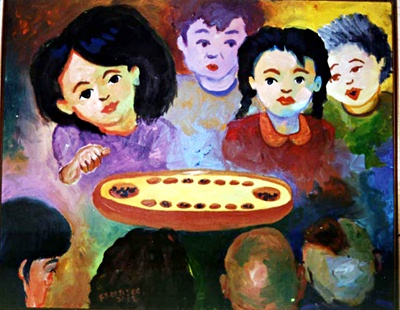 © Fransisca A., Surabaya, Indonesia