The Cry of Adolescence
April 10, 2009
Can you hear my screaming?
Caught up in the pain.
Can you feel the beating?
My heart's pounding like the rain.
Will no one answer my desperate call?
Can you see? Am I here at all?

The rain pours down my bitter cheeks.
Watch the tears as they slowly leak,
My fingers grip at what's not there,
They're cut, they bleed from empty air.
A tired song play sin my mind,
Hidden there's the soul I try to find.

My mind's on pause,
Will you please hit play?
The sky cry's out
For another day.
My heart slips up and hits reverse,
A scene plays on and I rehearse
The words I would've rather said
Not what I'll do but, rather, what I did.

Will someone hear as I call out
My desperate words, my tearful shout?
Don't heed the words I vocalize,
But hear the words you don't realize.
What I say's not what I feel.
The word's inside are why I cannot heal.

I wonder how
When you ask why.
What's wrong with me?
Why can't I try
To let me go, to let you in?
You ask me why and how again.
A gentle word, my angry shout,
But I don't want to shut you out.
There's no control for what I say.
In this world I cannot stay.
Here the walls do close in fast,
Save me now, I cannot last,
In this world that I have made,
A broken place where dreams are laid.

Yet, don't drag me from this awful place,
Coax me with your loving face.
A masking smile to hide your pain,
Another face to conceal the rain.
Don't feel the blows dealt by my voice,
Know it's not me, I lack a choice.
Pick my dreams up from the floor,
Tear down a wall, open a door.
Wait for me, though I'll be slow.
I'll follow you, together we will go.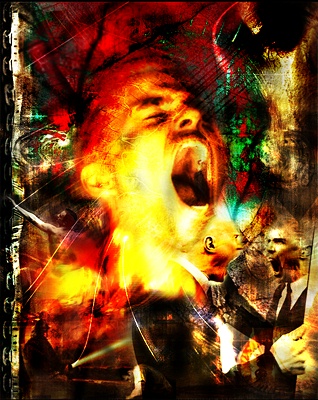 © Mark P. Woodside, NY