The Mighty Eagle
March 28, 2018
I am a pine tree so tall in the sky.
A big bird is circling me nearby.
I open up my branches to hold a great king.
In the wind, he swept his mighty wings.
His feathers cut through the air like a knife.
He clasped on my branch with a gentle land.
How strong and proud he stands.
His gleaming, piercing eye, tracking down his next meal.
A sudden movement in the whispering prairie grass.
He swooped down like an olympic diver with class.
The sound of a victory cry and a squeal, as he caught his next meal.
His beak tore the tasty flesh of the seizuring snake.
His mind is filled with success.
The hunt is over, he passed the test.
The smell of the crisp afternoon air on his breast.
Then he was off into the fading sun.
So free to be an eagle, oh great one!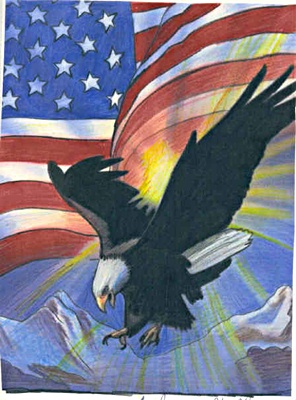 © Andrea G., Middle Village, NY