Over sea
March 16, 2018
The ship glided through the blue waters of the Pacific.
My parents sending me away caused me to be livid.
I lay on my bed, letting the ocean waves calm me.
Months to go, till I make it to my aunts over the sea.
The ship began to twist and surge.
The captain bolted into my room," Life jacket now, this ship is going to submerge!"
Everything went blank.
I awoke on a small island and lay on the hot sand, realizing the ship had sank.
The soaked letter and pen my parents gave to me to write, were still with me.
I tried to write on the back to write for help, until the pen broke open, spilling the ink.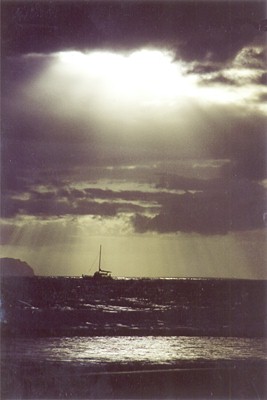 © lily H., Kekaha, HI