One of those morning..
March 22, 2018
It was one of those morning again.
I woke up did my usual morning rountine.
But when I went to open the door, there stood a man.
A man dressed in a uniform who had saddness written on his face.
He spoke the words I wished to never hear.
I'm sorry ma'am your husband was killed in action.
My face scrunched into confusion.
My brain couldn't undrstand was being said.
The worlds rumbled in brain over and over.
Not after the first rumble or even fifth could I understand.
But when I finally did.
My body crashed to my floor.
I sobbed and sobbed.
The mother of the man I love will never see her son again.
The friends of the man I love will never laugh with him again.
And I will never feel the warmth of the man I love.
Suddenly my eyes shot open.
I was no lomger staring at the floor of my livingroom.
I was no longer curled up on the floor.
Instead I was looking at the ceiling and lying in my bed.
My heart going at what felt like 100 miles per hour.
My mind slowly began to realize what happened.
Just another toxic nightmare.
I wiped the sweat from my forehead.
It was just one of those morning and one of those nightmares.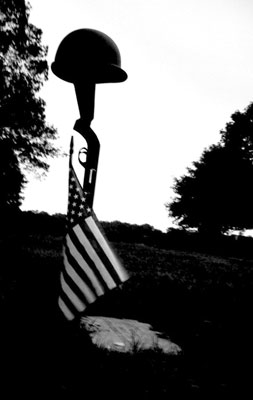 © Kristine B., Setauket, NY