My Darkest Art
March 21, 2018
My darkest art ...it makes chalk wright like starch.
I sit in the  room thinking about paintin a bullet  a baby baboon or maybe even my darkest ballon.
pause i know that i'm lost the ballon that i drew pop off the page my heads cloudy
everytime i think of drawing i'm going left right right left like might tyson but the only thing  is i don't bite  i just keep fighting
pause  with my rage i turned the page I think of my life as my own personal game
when i'm in here man i come to life  when im at home i'm always thinking something ain't right
I feel comfortable as I type
knowing that this is the last time i write
this poem it is like a song
it something that you can sing
but you won't know what's going on
or what it really means
My darkest art
It is what  makes me me
  the variation of my skin
Like how the way I feel
how I respond to things
and more and more as I type
it's getting darker
when i'm done I picture the sun
all my colors turn bright
and my room was able to hold a source of light
it was me that made that darkness come to light.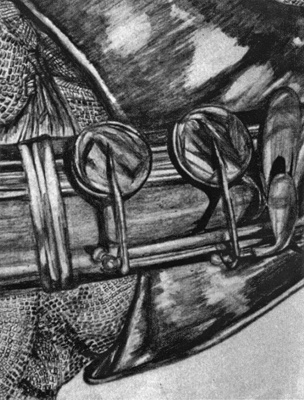 © Kelsey B., Cohasset, MA