A Day To Remember And Hope To Forget
February 25, 2018
Woke up in the morning,
With an alarm as my warning.
Can't be late to school,
It's the most important rule.
Was pretty much in denial,
What happened would soon go to trial,
It's been happening for a while,
And people covered it up with a smile.
That cruel date, I hope to forget,
But that won't happen, at least not yet.
The 14th of February, such an awful date,
A lot of people died, including my mate,
How can you not say a word,
Of what happened, I'm sure you heard,
They lost their lives to a gun,
But yet nothing was done.
You need to fix this,
You can't just hiss,
You need to take action,
Don't just say "it was a fraction".
Students and teachers we lost,
And that was the grand cost,
We payed for not having rules,
That apply to everyone, even fools.
Now we're all crying,
As the blood of our loved ones is drying.
We will never forget all 17 of them,
In their own ways, they were all like a gem.
So loved by everyone they knew,
You can check yourself it's true.
But the war wasn't lost, this was just a battle,
And we will prove more than a cattle.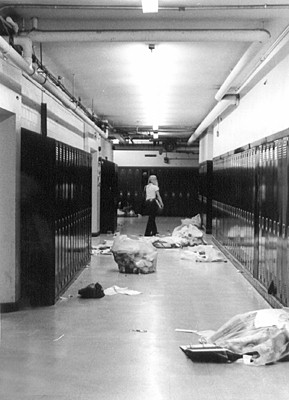 © Halsey S., Marblehead, MA