The Day the World Ended
February 15, 2018
I clearly remember brown hair. Some months it would be longer, others it would be buzzed short. It was soft, a nice feel for a girl's fingers.
I clearly remember hazel eyes. Different from most hazel eyes I'd ever seen. They were captivating, enough for multiple girls to rumor about. I, however, kept my rumors to myself.
Having been working at McDonald's for a little less time than me, I knew him well. He was a dear friend of mine for the longest time. He constantly smelled like the French fries there, among other things also rumored about. It, however, always added to his distinct smell. It ended in a fruity, greasy, strong smell that always added to the moments ahead. He was three years my senior, so my thoughts were kept to myself.
But one fateful day, a boy with vibrant blue eyes wanted a girl with dark brown hair and almost black eyes. He even happened to be the other dude's brother. He was only two years my senior, and legal. I wanted him badly. But fate was not my friend in this case. A mother's curse upon her daughter to never date until age caused all wheels to stop. He didn't wanna take a chance to run off together anyway. He was done. Those vibrant blue eyes, gone.
  I clearly remember strong arms. They held me so close, I never wanted to leave this newfound security. His arms like a blanket, a shield, and a promise. A promise to never leave me. To never abandon me. To never lie to me. To save my world. After arms came lips, pressing gently into mine. Lips that held so much promise. So much care. The rainfall didn't hinder us one bit, but added to the moment.
I clearly remember soft blades of grass. Nearly a month later, a night most certainly never forgotten. Soft blades of grass on a warm night, full moon lighting our way. The grass added a sense of finality. It was happening, and I would forever be changed. It was done, and I was never to be the same person again.
I clearly remember the sound of hysteria. The sound of a heart being ripped into a thousand pieces. The tears running like streams down my face, oh the never-ending tears. The curse of a tyrannical mother stuck again. Only this time, in certain finality, marking the end of the world for me.
I clearly remember the sound of boots. Hard, sturdy boots clomping on our hardwood floor. A car out front further cemented how much I wanted to die.
"So, what happened that night, Abigail?" said the nameless cop, sitting on my couch.
This was it. This was the day that it was to end. The security, the love, the protection, the promise. How could I expect him to follow all that now? He has himself to protect now. The cop will surly make due of that.
I clearly remember the words inside my head. They were spoken to my mother in silence, for surely, they could never be spoken out loud. "I will never trust you again."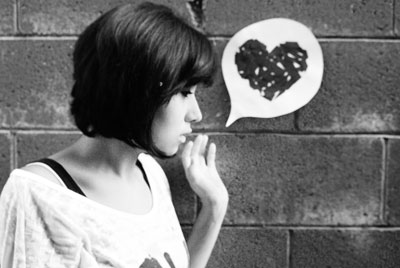 © Michelle B., West Covina, CA