Hidden Love
February 15, 2018
How could he not see it?
How could he not see that she fits?
She wanted to be with him;
But why did he have to be so grim?
He looked at his shadow;
And thought, how could he just go?
His shadow shouts on a nightmare scream.
He shouldn't have let her be.
She loved him;
She felt like they could have been;
He should have made it known;
Now the relationship is broken to the bone.
He should have told her;
The moment was just a blur.
He is in love, how could he not see;
That he wants it to be.
He heard someone jogging up from behind;
He just hoped they didn't mind.
He turned around;
It was her with a sorrowful frown.
He slowed his pace,
He grabbed her arm, so they stopped in place
He stood there, staring
She stood there, glaring
She tried to snatch away;
But he wanted her to stay;
'I don't want to hear it', she exclaimed;
He then felt ashamed.

'I have something to tell you,' he said;
He wasn't using his head.
'I love you, too,' he said, 'I just can't stop thinking about you,'
She looked down at her shoe.
Her face gleamed with happiness;
And then his.
He loved her, now she knows;
Her face now the color of an elegant rose.
She loves him, he loves her;
That is all there is to occur.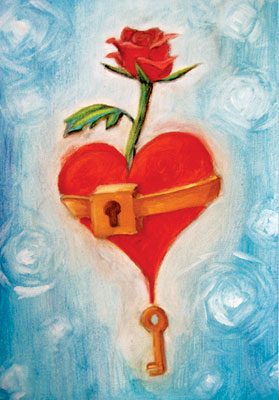 © Louisa L., Pleasanton, CA