The Beach
April 3, 2009
They play
So oblivious
To what?
My pain? My invisibility?
I am so lonely, and pray for a friend
Their football hits the ground in front of my feet
I toss it back, "Thanks" they say, and no more
Then they
Laughing, yelling, pushing each other, dashing
Disappear up the boardwalk to their house
I am alone
Yet not alone
I stand, strong,
At the water's edge, and it washes my dirty feet, with its cold liquidity
The wind,
In my hair
And I squint across the ocean to the horizon; the clouds cover everything in the sky
Except themselves
Of course
I hear their voices, echoing across the water,
I hit PLAY on my ipod, "Ocean Size Love" plays
"So if you can reach out to me, send a sign across the sea and I'll pick it up, with an ocean –sized love" goes the song.
A tear trickles down my
Invisible face
And the waves pull the foamy water off my purple feet
A sand dollar
Under my left foot, I scoop it up
It shatters
A sandpiper scurries along the sand
Yes, my friend
I am here, I won't hurt you,
Actually, I take that back, I don't trust myself, so you shouldn't trust me either, little one. I turn to the east and start walking, walking alone.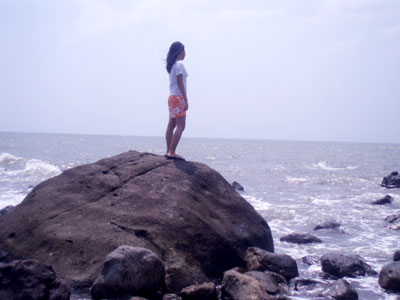 © Grace L., Bacolod City, Philippines