The Rose and The Weed
April 2, 2009
A Truth uncovered that sands no longer hide.
My mind is no longer able to be at peace.
My heart desires the untouchable.
But only delusions of an endless journey will further put an ocean between us.
My heart never reached the sea, while waves continue to crash
Upon the shores.
I still chase a love that is not mine.
The dreams dance and play in my sleep taunting me with the
Forever perfect treasure that has been perfectly created.
These words, this so-called quality, I'd trade for whatever would make
This rose open her pedals in my favor.
However, the thorns draw blood.
My heart has been pierced.
And now the precious crimson liquid pours over my soul.
These emotions would have been suppressed had the winds not blown away the sand,
And now my fear is that this unveiled secret hidden away
For ten full moons will cause the ocean to widen
And the flower to open to another direction as she recedes the roots that connect us.
I am torn.
Every fiber of me desires this most beautiful treasure that my heart yearns for.
I want to hold this rose in my leaves close to my heart.
I want her pedals to flourish.
But I am me and she is her.
And truth be told,
The unperfected do not get the perfected.
But for some tantalizing reason a small flame of hope remains burning under my heart.
For what if this flower tries to make an attempt at opening her pedals
And let the warmth I have to give,
Keep her warm through the cold months?
But what if her pedals close and she sees that something so
Rare
Deserves only rare things,
Rather than things that are as common as crows.
Whatever may come, it is my heart that will endure either the
Happiness or the pain.
These emotions should have never been told and should have remained
Concealed from her and the world.
The mistake was letting the wind blow strong enough to take away the sand
And letting the flame of hope burn to passionately.
And now my mistake bears a price I cannot afford.
But yet I'll still chase this love,
For I am not the wise owl who holds all truths of wisdom.
I do not foresee the future, for what if that future holds what I truly desire?
That rose bearing open pedals and roots extending themselves to me.
I may be just a weed, but is it impossible to become a rose myself?
I am lost in anxiety and can only wonder,
What if this weed was with that rose?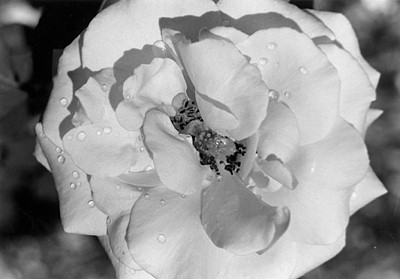 © Kristin O., Quincy, MA