Ekphrasis Poem: Perspective
January 25, 2018
Am I just another thorn in a rosebush?
Bringing roughness and misery into this so-called beauty.
Do my clean yellow hat and spotless white clothes not hide my pain?
My sweat mixing with tears and my blood covering my calluses.
Am I just another red petal, fighting for nutrients and hoping I do not drop?
Competing for each ounce of life and every penny of wealth.
Does the massive basket on my back holding flowers, compensate for my hands and feet suffocating in the dirt on the ground?
My aching back stabbing me and stiff neck paralyzing me.

***

The pedestal for a king's golden crown.
That man is hauling beauty, does he not understand?
Adam and Eve were first witnesses to Creation's allure.
Why do the man and his wife seem burdened though they are handling the organic Earth?
The magnificent flowers stand up, as if pointing to both the sun and the stars.
Why is this man on hands and knees, limiting his vision to just the hard cold ground?
Darkness and night scare the children, but sunlight and brightness give them a smile.
Do the red pedals reflecting the sunlight not make up for the shadows of the man's hanging head?

***

Why does the yellow strap hold the basket of flowers to the man's hurting back?
This double-headed, four-eyed Earth is both heaven and hell.
Why do the bright colors of the flowers contradict the darkness of the man's shadows?
It is placement, then work, that decides which lens is used.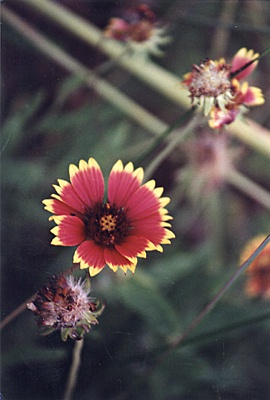 © Brian G., Phoenix, AZ