Beating Hearts And A Guitar Chapter1
January 22, 2018
Chapter 1: City Music

Street Music. *bzz, bzz, bzz* I sat up quickly at the sound of my alarm.

"Ow!" I yelled as I smacked my head on the ceiling of my apartment room. I took a look at my alarm. Why did I even have it set anymore? It's not like I had a job anymore. I got fired from the cafe on Main Stret three weeks ago. I sat up and put my hands to my face. My white night shirt had a coffee stain on it that made me look down. As I stared, my eyes passed my shirt and looked down on the ground to see my guitar laying on the couch. I crawled my way to the ladder of the loft and climbed carefully down. I couldn't tell if I was dizzy from still being tired or because I've hit my head on that ceiling too many times for my well being.

I stamped my way across the grey carpet over to my old guitar. I sat down, picked it up, and just as I was about to start playing, I froze. Then I stood up again and put it in it's polish black case. The sound of the bustling city streets below rang through my window which had been cracked open in order to let in ventilation. I sat up and gave a sigh. I walked over to my dresser which was actually a big, brown chest, and I shuffled around looking for a suitable outfit.

"This'll do." I said pulling out a pair of black dress jeans and a simple white t-shirt. I got changed, grabbed my backpack, and headed out the door.

*Step, step, step.* my feet moved across the sidewalk slowly. The sounds of people, cars, busses, and bikes flooded the air like music, leaving me in a peaceful trans. People pushed past me in a hurry to get to their destinations. Traffic was bad as usual which is why I usually walked places. All was noisy, yet somehow, comforting to me as I strolled through the streets.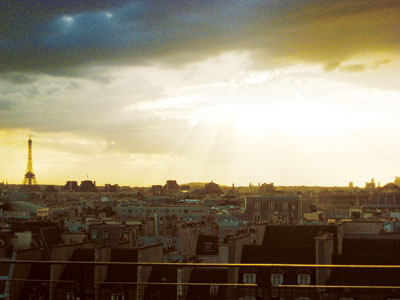 © Grace M., Montclair, NJ