Tamir
January 17, 2018
I sit, eyes glued to the tv, while November hands me a fit of coughs.
My thumb hits 7 on the magical black relic. In front of me is a boy who bleeds
the pride of this country as he lay, staring at the cool concrete slab. Salty waters I know as sweat
flood the M on my hand friends claimed signifies my future marriage. Looking through
the one way glass I see a sea of blue and black, the same blue and black that swore to protect every-
one. The same blue and black that was tattooed on to Rodney's face, inked on by each swing of the baton. Cotton
of the warmest blankets are being dampened by the scorching tears of my mother. The climate in
the atmosphere changes, as if the walls that protected me for so long from the
terrifying realities of America were disappearing. The November cold
engulfs me, sobering my views of the world while it detoxifies my optimistic fantasies. I stare at the wood
that lays the house while my heart descends down into the floor(s).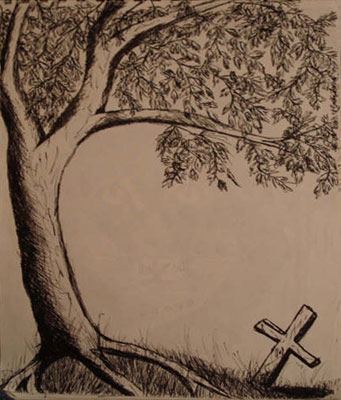 © Courtney K., Bethel Park, PA