Her Beauty is Simplicity
March 31, 2009
To those who seek her beauty, her heart and soul it is but a step away. She tells her stories to those who listen closely, pay attention and look beyond the hard reality of life. It is but the simplest way to uncover her secrets. An imagination that can careless but see the true love of life for eternity is someone who sees who she truly is.
A second in time is another story of hers drawn out to all those who open their eyes beyond the regular. A moment in time can paint a portrait to the mind. A minute in life can create a lifetime of memories. Every second paints a new picture. Her beauty demonstrated by just the right keys, like the perfectionist of the grandmaster piano player.
She calls herself Mother Nature. A spirit so delicate, yet baring the soul of a goddess. Her moods change often like the fickle seasons of her many moods, but her beauty forever remains the same. Her majesty's soul is the boldness of an eagle and the spirit of kings and queens. The smell of her fragrance purifies the air. Her taste is like purity and richness. She moves and speaks with grace and elegance. One could never truly understand her or define her. Not a soul could capture her true beauty.
She speaks of stories about chapters in her life. She also tells of her experiences and motivations. She speaks simple yet extraordinarily. Her stories are her own, and are passed down from lifetime to life time. A single story consists of wonders beyond the imagination. Stories are shared of what she felt and saw. Then these stories are retold by those who pay attention with a different point of view.
I sit alone next to an old friend that has stood his ground for years. Valleys run up his body looking like the imprints of evaporated rivers. Leaves are painted onto their mural. But slowly begin to fade away. Leaves fall like parachutes and cover the ground like a blanket of snow. They dance as they fall to the ground to the harmony the wind plays. The touch of the wind caresses the skin, and kisses the heart and soul. Where does this wind come from? And where does it plan to go? Speckles of droplets cover the leaves like rivers and ponds reflecting the world. These simple water particles are mirrors that play the same movie as life.
I am like the lines drawn on the roads, watching the world pass by me left and right. Fast cars are but a flash in a moment, like towns we pass on a highway. A glance of the everlasting sky, the clouds race to find new towns to look upon. The birds sing the melody of life and the trees dance to their tunes. Roses harmonize to the world in unison, one voice just as beautiful as the other. Birds perched on wires among their groups waiting for one to fly away to fallow. But mother tries to reach out and tell them to fly away on their own to experience their own life and explain their own stories to the world.
The torch shines its light upon its stadium. As the sun shines through the trees like a mosaic, and glistens upon the waters, as if fairies sprinkled their magical dust upon the waters. Into the distance the squirrel and his brothers and sisters, like little kids, play innocently. They frolic upon the trees, and roofs of houses. They play upon the world, looking for a simple object that adds one more piece of happiness to their lives. Such innocence and satisfaction spread perfectly to those who cherish her moments deep within their lives. My mind runs fiercely to catch up with every second of her beauty. She stands still giving me very little time to catch up to her, to try and compare my imagination with hers. But I glance down just for a moment, and then she is gone once again.
One year, weak, day, hour or second can tell but a million stories but never enough. That is if you listen closely to her voice, and pay attention to what she is truly saying. She is wise and tells only truths. I myself am a listener and one of many evaluators. I do not criticize but tell my own stories about her. She sends her stories on the wings of the wind. To be told around the world and written into the hearts of all those who decide to listen closely to what she has to say.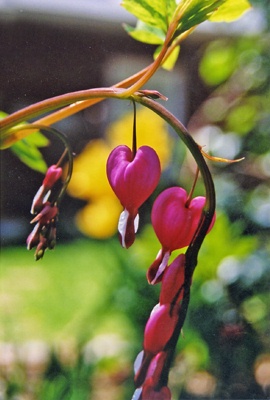 © Sophia E., Wilmington, DE