Walking With Brownie
December 23, 2017
A leash snaps
On Brownie's collar; the start of mishaps!
Heavy pants sound
From Brownie's mouth
He breaks across a wild run
In search for some fun!
My hand remains attached to the leash's hold
Strangled in; not able to break away from an atmosphere that's cold
Brownie races across the back field, past grains
Would do so despite wet and muddy rains
He races towards a black-paved road
Neat and straight like a fold
Of clothes
TAT! TAT! TAT! Silent footfalls are heard
Louder than a cat's purr
Brownie remains trotting
His mind races, plotting
To pull me, to go wherever he wants
His stubborness, he knows that it haunts
My family
Suddenly, Brownie pulls back with a jerk!
He stands, breathing hard, his stubborness doesn't work
Anymore
I look; bracing myself as if opening a fridge
What do I see? Brownie's afraid of crossing the bridge!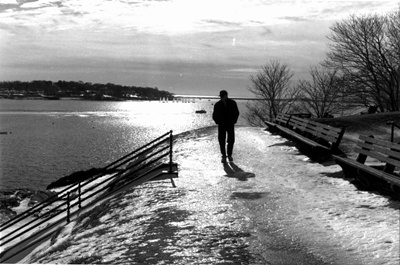 © Steve S., Marblehead, MA