Symbol of Me
December 18, 2017
The silence was unbearable.
Afraid to move afraid to speak.
With every minute passing by the fear grow twice as deep.
Eventually my mind went crazy thinking about what could happen to me.
And so im ready, ready as can be, I'm finally ready for my time to  sleep.

A stranger appeared.
As if out of thin air.
Finally fighting my fear,I silently peered.
Unsure of my next move,
Though I know I have something to prove
Suddenly it comes to me I know just what to do.

I do what no one expects of me,I realize I can be free.
I break my silence and jump up into the light to see the sun smiling back at me.
Suddenly I began soaring high,higher than the trees.
I remember not to long ago that's where I used to be.
I was afraid to meet the world,to show them who I can really be.
Afraid to be the person that everyone was waiting to see.

Despite this butterflies hardships she's powerful beyond belief.
She feels the wind as she's soaring up high,
This place in really her home with her wings up in the sky
She smiles out ready to meet the world as though it's for the first time.
The butterfly is free again to spread her wings and fly.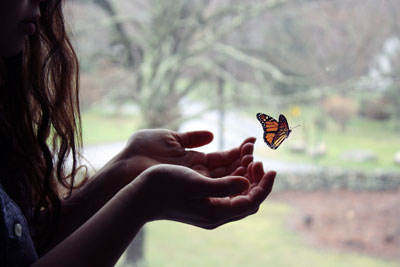 © Sandy H., Woodbridge, CT