Immortal Love
March 24, 2009
looked into your eyes so blue;
your hands were mine to hold.
You promised me your love was true,
my heart no longer cold.
The world was our own, to explore,
and I began to think
I could not want anything more,
my cheeks a shade of pink.

You told me of a new life there,
this place I'd never been.
At you I often stopped to stare,
most handsome of all men.
I packed my bags, and off we'd go,
our love so young and new.
With you I could have conquered all;
there was so much to do.

One day my love finally sent
a letter from the war.
You said you sat inside your tent,
each day you loved me more.
You told me you would come home now,
across the sea so vast.
In every word you described how
our love, so long, would last.

I waited by the docks for you,
the moon was high and bright.
I wished to see those eyes so blue
they radiate my night.
Asleep I fell, there by the sea-
dried tears were on my face.
Why had you not shown up for me?
Was this the time and place?

Days, they went as fast as nights,
your face I did not see.
With all the maybes and the mights,
sadness latched on to me.
I did not know which way to go
I was just so confused.
To my head my heart cried out "No!",
You, I could never lose.

Each night I lay there on the dock,
waiting for you, my love.
My heart would pound; my jaw would lock,
the moon shined up above.
Why had you gone, my love so true;
you would not stay away.
All I ever wanted was you,
would you return today?

One day that boat came into town,
the soldiers kissed their wives.
I did not think that it was fair,
they got to keep their lives.
True, part of me was in denial;
I waited for you still.
I wanted to walk down the aisle,
not grief I could now feel.

That week, a soldier came to me;
his face was cold as stone.
He asked did I know you, my Lee?
We stood there all alone.
I told him yes, we were to wed.
He coughed and then replied,
a black dress I should wear instead,
my dear love, you had died.

My heart, it stopped, I fell down fast;
this just could not be true.
My life shattered before my eyes;
I just could not lose you.
The next few days, they were a blur-
a dream it almost seems.
Life did not have the same allure;
you were only in dreams.

I now sit here by your grave site-
I love you more each day.
My heart I will no longer fight-
this is the only way.
The heavy pistol in my hand,
I know now what to do.
In order to be with you, love,
I must end my life too.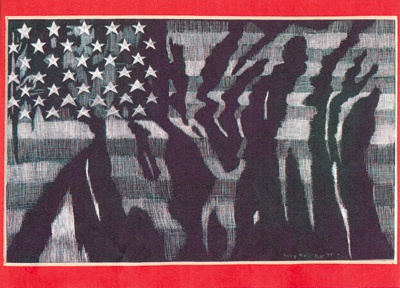 © Haley M., Ellinwood, KS