Come to this?
March 21, 2009
I held you, though this structure crumbles.
Although fear was consuming us, you looked so humble.
The whole city is burning, yet you won't flee.
You whispered you'd rather die than leave me.
I stood here staring into your eyes,
Thanks to politicians lies,
We are doomed to die.
I would not leave your gaze.
Then, a loud noise put me in a haze.
I heard a bang beneath me,

You weren't in my arms, and then I could see.
You fell down dead,
Shot in the head.
The city is burning
Consumed in flames of hate.
Because love has died
It's buried where she lied.

But I will try letting my love stay free
Though we seem to be losing World War Three.
I will hold you one more time, give you one last kiss.
I close your eyes
So you can deny
That the last moments of your life
Were ended by the hate of economic strife.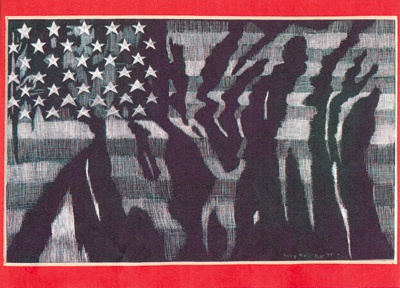 © Haley M., Ellinwood, KS