9/11 never forget
November 9, 2017
Hijackers rammed jetliners into each of New York's World Trade Center towers,
topling in a hellish storm of ash, glass, smoke, and leaping victims.
A third jetliner crashed into the Pentagon in Virginia.
American Airlines Flight 11 crashed into the north tower at 8:48 am.
Eighteen minutes later, Flight 175 plowed into the south tower.
266 people perished in the four planes, and more dead elsewhere.
Firefighters, police officers, and rescue workers, were killed or injured.
Hundreds treated for cuts, broken bones, burns, and smoke inhalation.
"Right now, we have to save as many lives as possible" said Mayor Rudolph W. Giuliani.
The numbers were going to be very very high.
Thousands and thousands of bodies.
Within an hour of attacks, the United States was on a war footing.
The White House, the Pentagon, and the Capitol were evacuated.
Nobody immediately claimed responsibility for the attacks,
but the history of major attacks on American targets in recent years,
led officials and experts to point to Osama bin Laden.
"These acts of mass murder were intended to frighten our nation, but they have failed",
a somber president had told the nation.
Canada and Mexico borders were closed,
sites ranging from Disney theme parks to the Golden Gate Bridge were evacuated.
It was in New York that achieved levels of horror and destruction.
The largest city in the United States, the financial capital of the world,
was closed down.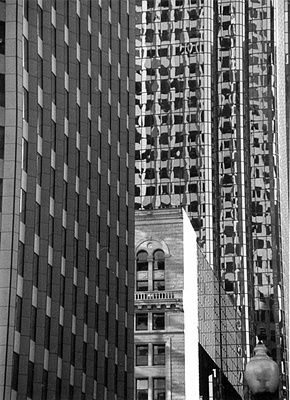 © Natalie D., Marblehead, MA