The Vase of Irises (Narrative inspired by Van Gogh Still Life)
November 21, 2017
I wanted to remember
the irises, even if
she did not.  
"They won't survive here.  Do you
know what were are hoping for?"
I did not.
I thought the violet flowers
would enjoy their vase of clay.
I was wrong.
I thought she might fall in love
with a whiff of the fragrance,
the lilac
petals (gone blue) of the fresh
bouquet; the kind worn in her 
hair on our 
wedding day, on the day we
wan away to that Spanish house
on the coast.

But it is too hot here.  The 
water got too warm, boiling
them alive.
The irises are wilting
and she poured the water in 
the garden,
where maybe then, at least, some
wild flowers will drink it up,
they might thrive.
The piping water was just
too much for the irises,
But not the 
wildflowers that grew up from
the weeds and stickily bushes
infecting
the once bountiful beds, the
ones that once held their very own
irises.

I mixed the paint, acrylic
blues, yellows, reds, black and white;
the green would
come along with the orange, 
I suppose.  The leaves in one
section
have already given up,
have given in to their fate, 
seem to have
forgotten their own meaning,
their dutiful purpose:
to give hope.
I killed these irises out 
not of despise, but of
selfishness.
Maybe I am asking too
much of these flowers. That they
might give me their hope.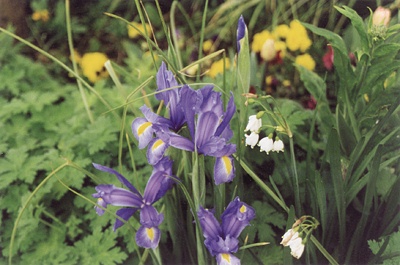 © Kelly G., Norwell, MA