Just Kid Things
November 17, 2017
Hey, best friend! I'm happy to see that you're doing well. I'm just dropping in to refresh your memory.
Do you remember that one time in fourth grade when we met on the playground? We were both shy and introverted, but found a common ground through Cheez-Its, scooby-doo-flavored fruit snacks, and Mario Kart.
Do you remember that one time in fifth grade when we became best friends? We spent each and every day together, whether we were in school or climbing around on that fallen tree in your backyard. I was always too afraid to climb to the top, but you'd give me encouraging words that made me feel like I could do more than I knew I was capable of.
Do you remember those times when we would watch horror films behind your mom's back, late at night? How about when we would illegally stroll down the railroad tracks and blacken our hands with the discarded coal pieces that we would pick up and plunk into the running water under the bridge? How about our trips to the city together? We'd experience our first things together; like our first time looking poverty in the face or facing a middle-school heartbreak.
Do you remember when we were inseparable?
I do.
I remember all of these things; from jumping on the trampoline and writing horror stories to going camping in our backyard, only to be scared by the surrounding nature and venture back inside.
I never thought I'd be facing these days without you. I'm sure you have all of these not-so-distant memories tucked away in your memory, or maybe even in your heart.
I do.
Only, they're not buried so deep.
These days, I face the surrounding nature alone. I don't have our secret handshake in my pocket to save me from the howling coyotes outside my tent today. Instead, I only have a couple coins, lint, and darkness in my pocket to try and defeat the outside.
These days, my hands aren't blackened by the coal that I'm picking up on the railroad, but rather by the loads of coal that was placed on my shoulders, by the ton. My hands are black from trying to keep it up, but I know that soon, the sacks will fall and scatter upon the grounds under me.
These days, I don't have anyone to give me magic words to help me climb the tree. I see you at the top and you only look down. I sit at the bottom and wait for your hand to reach out. But you don't.
I'm sorry for what's happened. I don't know what else to say but "I'm sorry," even if it can't fix anything now.
I'm sorry for our distance.
I'm sorry that you chose a guy who is only a ticking bomb, ready to self destruct and destroy everyone around him.
I'm sorry that your mom got cancer.
My condolences go out to your family because they were my family at one time as well.
It seems that we were swept off of the faces of each other's planets; separated by space, clouds, stars, and atmospheres; and neither one of us is capable of becoming an astronaut.
It's not only on days like today that I regret my past. I used to attempt to climb the tree and pick up the coal you drop, but it only seems like you're cutting down my branches and burning my coal.
How it is now, maybe one day we can have some coffee and catch up, how adults do. You know, the masked small talk and awkward silences, rather than cheez-its and fruit snacks on the playground. I guess that's what growing up is. In the meantime, I'll watch you from the bottom of the tree and from the end of the track.
Thanks, bud.
I'm proud of you.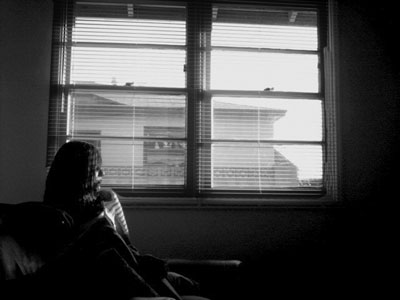 © Roxana R., Tustin, CA