Eight Wilted Flowers
November 1, 2017
They are the only ones who remind me. I am the only one who cries for them. Eight wilted flowers with dead leaves and a stem that stings the thumb like needles, one with bright red petals and sprouting leaves. Eight that sit in a vase with dirty water. Eight months of love and pain. From my car, I can still feel the throbbing of my bleeding fingers, but he ignores my complaints.
Their fighting is silent. They send annoyed glances towards the world. They smell beautiful and they reek of regret, filling the air around them with a sonnet of memories that attack with a now hateful anger. This is how they stay.
With only one that heals the soul, they all fight against it like a family with one troublesome child, a loving anger. Cry, cry, cry they chant while inside I slowly die.
When I've gave it all and become too dead to keep crying, when I am one amongst the crowd instead of two, I turn to the single flower fighting for love. When there is only emptiness in the vase. Eight who died, one who lived. Eight that sob nightly. Eight who stay to remember and never forget.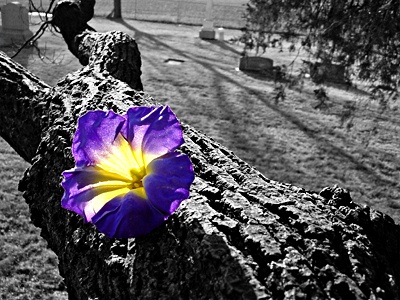 © Greg K., New Lenox, IL