The Ridge
October 24, 2017
I don't know what to call it.
I mean,
other than the real-life name.
But this was not real life,
it was much, much more.
The suspense increasing exponentially with every step.
Need to open a door,
but simply walk through it
or run.
The start of a race,
off like a bullet
no chance to stop and soak it in.
I guess that's growing up.
Turbo speed first,
patient wisdom later.
If I were to look up,
I would be engulfed in fantasy.
One day, we were pirates on our huge ship
searching for buried treasure.
The next day,
trainers trying to catch the best Pokemon.
Everything was this elaborate plan.
A dream.
Only to be wiped away and replaced the next day
by new dreams.
Here we are,
seven years later
striving to make new memories
new dreams.
Now,
seeing it as it is.
But not really.
Metal structures litter the playground.
Basketball courts worse now than ever.
New fences giving off a faint reminder of the old ones.
But this is not real.
just a cover up,
pulled over our eyes.
Hiding the truth.
I glanced back at my friends,
then back into the beautiful fantasy world of pirates and Pokemon.
The world that is true,
the world that is pure.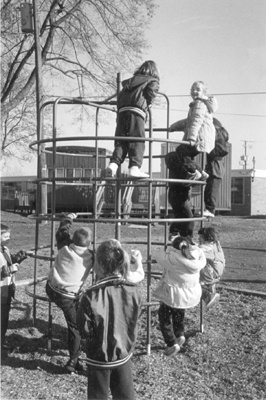 © Danielle H., Jonestown, PA