Dreams Are Achieved Through Hard Work
October 27, 2017
"Thank you! Thank you! Thank you!" I happily exclaimed standing in my driveway wearing my festive red and green pajamas, admiring my brand new, beautiful basketball hoop. I had been begging my mother for my very own basketball hoop ever since I was eleven, when my passion for basketball began. I am now fifteen and my passion for the sport continues to grow each day. My family includes myself, my younger brother Stephen and my mother Joyce who does her very best each day to financially support our small family. My father died ten years ago when I was only five. Ever since then, we have been doing our best to get by on a strict budget, and we have not been able to afford many things other than the basic necessities. I have been working at the local supermarket in my town of Overhedge, Michigan from the moment I was old enough to get a job in order to help my mother pay our bills. My brother is only twelve and is not yet allowed to get a job, however he also does his best to help our family in every way that he can. Unfortunately I can only work part time during the school year due to all of the schoolwork that I have, and I work as many hours as my boss will allow during the summers. Working all summer is not as bad as it sounds because all of my friends are fortunate enough to be away at sports camps the whole summer, so I wouldn't be able to see them anyway. They all play basketball too, but none of them have the same passion that I have for it. We are all planning to try out for our high school basketball team next month.
I fear that one-month will not be enough time for me to properly prepare for basketball tryouts due to my excessively busy schedule. I also worry that my friends will have an advantage over me because of all of the years that they were able to afford to attend sports camps, when I was not. It somehow doesn't seem right that with my love and passion for basketball, I may not be as qualified a player. It is evident to me now that I have two primary issues that I need to resolve quickly. It is essential for me to find the time to be able to put in the hard work that I know will be necessary to make the team. I will have to work hard for many hours to improve the skills and techniques that I am lacking, unlike my peers who have already received proper training. I just want to have time for basketball and it seems that I never do. I can remember the day after I received my new basketball hoop, after only 15 minutes of training, my mother interrupted me with a reminder that I had to leave for work very soon because it takes almost thirty minutes to walk there. "Marcus!" My mother called from the front porch as I took my twentieth jump shot. I was beginning to develop perfect form by placing the ball in both my hands with my elbows bent as I simultaneously bent my knees and sprung up. "You better get walking to work now, or else you won't make it in time." Instead of leisurely walking to work as I do everyday, today I chose to run, in order to get my cardio training in. I ran down the sidewalks like a cheetah runs through the tall, green grasslands. I realized I was able to kill two birds with one stone by running to work for exercise, instead of just simply walking. I'm glad that I have figured out a way to train on my way to work, this has helped to solve one of my concerns.
When I awoke the next morning, I pondered about how I could catch up to my friends' skills, which they have developed through specialized training. I came up with the possible solution of asking my friends to help teach me what they have learned at their camps. I invited them to come over after school each day for the thirty minutes of free time that I have before I need to leave for work. My friends agreed to come over and they taught me some drills that they learned at camp, which was a huge help and tremendously beneficial for my skills development. I was finally beginning to feel more confident in my abilities and very grateful for my friends help. I feel like I have a good shot of making the high school team this year, and if I do not, I will try my absolute hardest to achieve this dream next year.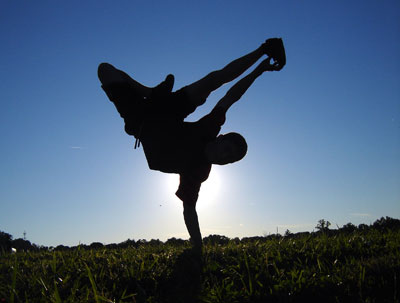 © Seita O., Louisville, KY