Volleyball
October 27, 2017
After a long and difficult week of volleyball tryouts. The coach came up to me and said, "you have been cut from the team." This experience influenced my new outlook on life. I believe that if I work hard and stay positive, anything is possible. This belief is important in my life because when life gets me down I realize that I am in charge of my future. I choose to believe in determination, resilience, and optimism as I go through struggles and obstacles.
As the volleyball coach walked away, time stopped.  I  had never been cut from a team before that day. I was unbelievably devastated. The words he had spoken replayed in my mind like a broken record. I stood there for a moment, comprehending my emotions of sadness, anger, and disappointment. I slowly turned and started to walk away, swallowing my tears. As I walked away the world became a blur, as if I were looking through a foggy window. I could barely walk as tears of disappointment filled up my eyes.
From that moment on, I became extremely determined to make the team the next year. Even though I was cut, I continued to attend games and support the team. I also attended the practices to express my desire to be part of this team. During the summer, I went to multiple skill clinics: the Bishop Feehan camp, a Mount volleyball camp, and a beach volleyball camp. At home, I practiced daily, alone and with friends. My friends helped me with my serves, passing, and setting. I told them to challenge me, and push my limits in order to work harder and make the team. They also gave me tips on how to get a harder serve. Even after all my efforts, I still wanted to improve more and would make my parents throw the balls in different directions to improve my speed.
Finally, it was the long-awaited tryouts week. The week that I was so excited for, yet still so nervous that I would be cut again. During tryouts I was determined to prove the coach wrong. At the end of the week I was ecstatic to find out I had made the team. All my hard work had payed off. Throughout the season, I made sure to give every practice and every game my complete effort. Although I made the team, I continued to practice because I knew that high school volleyball was a totally different game.
I trained throughout the summer, went to open gyms, and other volleyball clinics. When high school tryouts came around. I was so nervous that I would be cut again. I played as if my life depended on it, and now I am the starting libero for the junior varsity team.
This negative experience shaped the person that I am today. My belief in resilience formed when I needed to stay positive and not let a bad experience prevent me from achieving my goal. Looking back on my experience, not making the team in seventh grade year had made my passion for the sport grow. Being cut had at first decreased my passion for volleyball, but working hard to show my skills and constantly pushing my limits shaped who I am today.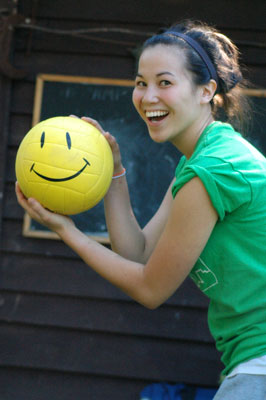 © Masaleen O., Palatine, IL