Raised by Mom
October 19, 2017
 I was raised by 
quiet around others
but loud and talkative at home 
"This is what happened at work " 
Kind of mom. 
The aroma of freshly
baked macaroni and cheese and roasted honey ham 
every Thanksgiving and Christmas 
"Watch me here cook and you'll learn " 
Type of mom. 
Watching movies 
in the living room
hearing her explain 
her favorite shows
" Wanna watch this? " or " Oh, this looks interesting!" 
Sorta mom
Saving money
for "just incase" causes
Spend less on wants and more 
on what you need 
"Save that money up
instead of splurging" 
Kind of mom
You're beautiful 
the way you are 
You remind me of a cute Cabbage Patch doll  
" Aww, let me take a picture of you" 
Kind of mom 
Never depend on no man 
Worry about boys later
Find yourself first 
" Boys wil only get you into trouble" 
Type of mom 
I want to see you grow, succeed 
do even better then me
I'll be always proud of you 
Make the wisest decisions you can 
" I believe you can do something in life " 
Sorta mom 
I was raised by Mom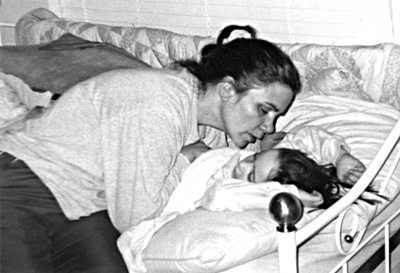 © Jessica T., Highland Village, TX