Teach Peace Sestina
March 26, 2009
"What is that scary noise?" your sweet child asks.
Dare you tell him the honest, horrible truth?
You think for a moment, what it could do,
Would it trouble him and cause him fear?
You force a smile and say, "Those are soldiers,
"They are protecting us." Wipe away his tears.

Years go by, still you don't tell him the truth,
You don't want to scare him. To fill him with fear.
You give him the same answer whenever he asks,
Patting his head and glorifying the soldiers.
This way he beams instead of shedding tears.
What's the worst this little lie could do?

The war goes on and you begin to fear
That it will never end. But what can you do?
Your media tells you to support your soldiers,
And so you do when your son asks.
Other sons are dying, you know this truth,
But you ignore their mother's tears.

"What is it that they do?"
Your son asks, "These soldiers?"
Here's your chance again, tell him the truth?
No, not now. "They save us from fear."
He smiles, plays pretend, no tears.
What's so wrong in lying when he asks?

He's graduating? Where did the time go? you ask.
He's a man now, he says. You know it's the truth.
He sits you down and says, "I know what I must do."
You wait, recognizing the moment you fear.
He explains, "I'm going to be a soldier."
You say you're proud and bite back your tears.

You hold his letter and let go the tears.
It's not what he thought, this life as a soldier
He explains. He's seen too horrible a truth.
People bleed and die. Has it always been so? he asks.
He says he's disgusted and filled with fear.
You want to save him, but what now can you do?

It turns true, everything you fear:
He's dead—gone forever, your precious soldier.
He deserved so much more than merely your tears.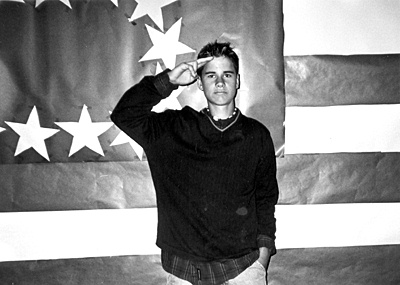 © Corey K., Highland Village, TX