Dream A Daydream
March 26, 2009
Whistling softly through the minds of innocence,
Pure and white like an angel's wings.
a reflection on a dark lake as deep as Hades's home,
silvery mist clinging over a winter's pond
a waterfall, sparkling sharply as a blade, hiding an enchanting being.
building castles in the air all the while, as gently as a dream.

Whispering songs to tiny hopes.
a fairy: dances under the night-light; a mystical figure of charm.
washes away all dust and dirt,
like a hose on an abandoned old fence.
Turning into reality, as real as the dirt under a gardener's nails.
Building castles in the air all the while, even gentler than a dream.

Whishing secrets to a curious robin,
never never boring, wide awake yet softly sleeping.
Delicate footsteps tread the cloud,
the cloud fluffier than a fluffed pillow,
more complex than an ant's marchway.
Building castles in the are all the while, more gentle than anything, even a dream.

All these tastes, and many many more,
Building castles in the air, gentler than a rose,
is when you dream a daydream.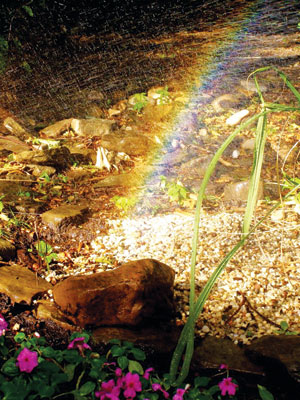 © Kristine B., Setauket, NY