One for all, All for one
September 26, 2017
One for all, all for one
The ball traveled down the right side of the field
I, as the goalie, effortlessly paced to the ball-
I soon found out this decision was regrettable
My defender, and the opponent were battling in a 1v1
The opponent had won
Only a few feet from the ball, was I
A confident goalie. A creditable keep. A fearless player.
I took one last step
I leaped
I intercepted the ball out of bounds
Ouch… What is that?
Right on my knee
There it was
A 2 inch long, 1-2 centimeter deep gash from the opponents cleat
The blood was gushing
Just pouring out of me like a hose on full blast
I look up to see my whole team gathered around me with wide eyes
I calmly ask for my coach to come, Coach Joe.
I hear scared voices yelling for him
Who wouldve thought that Coach Joe as a mentor, an inspiration
Would tell a story about his work when some juveniles hurt themselves
When all I really wanted was to hear a solution from him
He finishes, and I begin to get up without his help
Hobbling over to my soccer bag, I can feel the pain
A burning,
Pounding feeling
Crawling up and down my leg
Easier said, than done
That's how I'd describe my 30 yard walk over to my soccer bag was.
I stripped my soccer gear off
My mom came to my rescue, and drove me to the emergency room
Next thing I new, there was 3 stitches holding together my sightly gash

My ending thought for the day,
Not as bad as I'd thought. Not as bad.
3 stitches later and a very dramatic story to tell everyone,
the real point to focus on here is that I saved the ball from going in the net
To a goalie,
the simplicity of keeping the ball out of the net
is the most important and difficult thing to focus on 
But if it's for my team, I'll do anything
One for all, and all for one
That's how I see it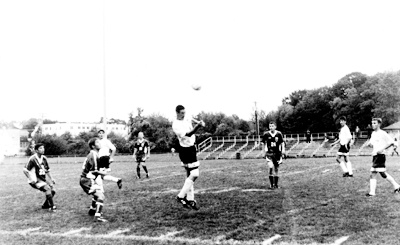 © Kim L., Milford, CT