Suicide Pact
March 23, 2009
A breeze nudges the empty aluminum boat.
And if its hallow insides could share stories,
You would not wish to hear them.
The light metal would echo much;
Proclamations of love, promises of forever, bittersweet embraces;
And then it would fool you into believing this story had a happy ending,
That these children of passion sailed off into the sunrise, unscathed
Before the blast of one shot,
Two shots,
Would burn holes through your eardrums,
Into your memory forever.

If its salt-stained siding could rewind long past images,
You would not want to see them.
They would not paint you scenes of peaceful fishermen,
Or reflect a tale of victory over an unruly whale.
Instead, they would show you crimson lines of the ultimate act
Following the steady sea current,
Intertwining with heavy, dark ocean water.
Those sides would reveal the dull light given off by a crescent moon one faraway eve,
And how it cast a romantic glow upon young, sun kissed skin,
Desperate faces,
And the empty shells of two silver bullets.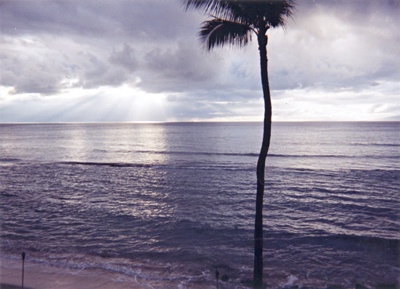 © Grayson H., Highland Village, TX