To Those who Mock
July 13, 2017
To those who mock and jeer
Come, listen to another's tear;
Watch him step up to bat,
Not for himself, but for the other, where his life is at.
His world revolves around other people, spinning
Falling over on seeing others grinning,
Laughing at the natural flaws of another,
Their own innocent spark to smother.
The girl sitting there, shy as a bird,
Prettier still, just not ever heard
Until you listen.
That boy hiding there, sad as a rock
To whom, will nobody talk?
His story is worth the effort, though,
And his lion's heart will warm the snow.
Tis not all, can never be so
You've mocked the children all, and, oh
Were it not so!
I have not time to tell you all,
So last of all, look over there.
Look!
Last of all, look back over there.
I know you were, fingers in air!
His face shaped round, eyes small and thin,
Still he'll see more than you did see then.
You laughed and poked, put him down like a stone,
You laughed to know, "Tis down syndrome!"
You still know not that you're truly wrong,
That Child of God will but sing his song.
Sophomore year, I was wisest of the lot,
My ACT of 30 and 4 preceding my AP of three and four... Five... Not
Anything I would give up, no
If I hadn't seen the child upon whose flaws there you sup so.
I envy him, and envy him much
For simply being, and as simple as such:
His wants and needs are simpler still,
He can be happy listening to a little bird's trill,
Smile at a fist bump or cheer at a bug,
Cry for a butterfly yet be calmed by a hug.
Why do you mock him still?
Would you mock me? For he is better already than ever I will.
I can never have what he was firstly given,
Until with my Maker again my life will viven.
Don't you laugh, but rather love,
For he will shine brighter and happier than morning's dove!
Don't you mock his different face,
See his beauty your evil efface.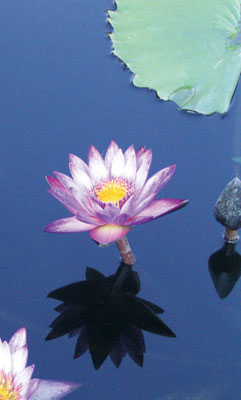 © Hilary B., Barrington, RI