Moustache Gel
July 12, 2017
There once was a fellow with black, glossy hair,
Who fancied a product of a jelly affair.
For years he would search for a rare, luscious gel,
With the scent of roses and the feel of caramel.
It was for his moustache that this fellow did quest.
"With this gel," he had thought, "I'll be always well dressed."
But as years went by, his black moustache would droop.
The tips of his hair would graze his hot chicken soup.
Every product he tried, every gel he had tested,
Would fail like his heart. He felt his hair had been bested!
Then the man had enough. He declared with a roar,
"Why is my moustache such a gargantuan chore!"
But as he cried in dismay of all his failed dreams,
An old rat approached him, with a tube filled with cream.
"Why sir," the rat asked, as he walked up to the man.
"Are you finished with bawling as much as you can?"
"I have here the potion you might just desire.
And I'll give you a deal since your composure seems dire."
"This cream is magic. It will work without question.
All I need in return are all your life's possessions."
The irked, silly man, without hesitation,
Happily obliged to the rat's invitation.
The fellow skipped home, overjoyed as could be.
He rushed to a mirror so the magic he could see.
But as he applied it, he detected a ruse.
His moustache was sticky with a glutinous ooze.
Realization dawned on him as if roused from a coma.
He distinguished the scent of a familiar aroma.
The bloke, now troubled, began to taste it.
As his tongue hit the gel, he instantly traced it.
He looked at the sky as he shouted, "God damn!"
"That crooked old rat gave me strawberry jam!"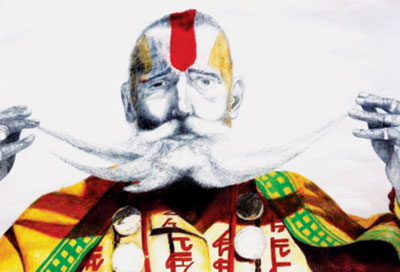 © Luke K., New Orleans, LA