Paris
June 7, 2017
Our flight wasn't until 9:30pm so the whole day was filled with the excruciating pain of being completely packed and ready to go, but having to wait. When we got to the airport I was full of joy and excitement. I was also extremely tired. We got on the plane and sat down in our seats and began to prepare for the nine hours of travel ahead of us.

Landing in paris was beautiful. The patches of flowers looked like giant patches of a colorful quilt. The city was so beautiful. All of the building looked like they had seen so many events and had been weathered and affected differently by each one. For easter dinner we decided to eat at a restaurant directly across from the famous Moulin Rouge. After we finished eating we walked the amazing, outstandingly Parisian, cobblestone streets. We kept trudging up a hill towards a beautiful, old church. From the front of the church and the top of the hill, you could see the whole city. There were so many tourists wandering around all trying to see the same gorgeous view.

Ascending to the top of the Eiffel tower was one of the beats experiences I have ever had. We got to have lunch in the first floor of the tower. Our table was right next to the floor to ceiling windows that went all the way around the tower for the panoramic view that overlooked the seine river and the bridge directly below us. We walked up to the second floor and then took an elevator to the third floor for the most amazing view. The whole city looked at peace from above. You can see the whole city and all of its similar but unique buildings.

Walking along the seine during a warm day in was my favorite part of the trip. The sky was deep royal blue and there were almost no clouds. We walked across the old lock bridge, where many people were sitting peacefully, painting, and taking photos. We sat at the edge of the river for about a half hour just watching the boats and people go by. Even though there was so much going on around us, it still felt very calm and peaceful. An old white swan peacefully swam by us slowly while exploring the green water for food. I think that this was the most relaxed and peaceful I had been in a while.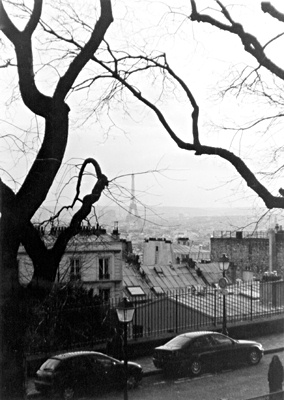 © Lena K., Marblehead, MA