He Is Gentle
May 23, 2017
After a painful day, I notice from my bed
That my friend is in his own mind, thinking
By himself, not realizing as I hold my head
And rock myself, I'm sinking.
           Sinking.
           Sinking.
But I'm pulled from my thoughts as strong arms
Wrap soothingly around my shaking frame
He lets me cry, frightened in my world but safe from harm
He knows how I feel, he has felt the same.
   He is gentle.
   Is kind.
   Humble.
Months or weeks or days pass us quickly by
He continues to protect and shelter me
Underneath our always blindingly starry sky
There's not a single person with whom I'd rather be.
   Not mother.
   Not father.
   No other.
He helps me through my life every single day
It seems he never tires, never grows older
When I need company, his words are never grey,
Full of promises with kind touches to my shoulder.
   He is good.
   Is gentle.
   Friend.
Everything is well for me again, except for today;
Today my cat hinted that of my secrets, he knew.
Mother calls that it is dinner time; he comforts me and says,
"Today, let's go and try to do something new."
   Did I eat?
   I don't know.
   Says I don't need
We are going on an adventure, he tells me
I walk outside with him into our familiar dark skylight
He holds my hand and tells me that I don't need to see
I close my eyes and smile; with him, dark doesn't bite.
   He is trusting
   Is thoughtful
   Happy
We walk and walk with no final destination in mind
He was right, I didn't need dinner because this is fun!
He tells me that for trusting him, I am so kind
We laugh together as he says that I am almost done.
   I am kind
   He says
   Friend
It feels breezy as we slow down together to a stop
I take another step forward and feel cold and wet
I'm allowed to uncover my eyes and see the top
Of a water bank, but he is smiling with no threat.
   He is good
   Is nice
   Trust
He says we should go and swim, but I am sad;
I cannot swim, but he takes my hand with a smile
He tells me he will help me, that it won't be so bad
He promises that we will only swim a mile.
   A mile is a short
   Distance
   Says
We go into the water and he holds me up as we go
I notice just how vast is it's intensely vast starkness
I hold my breath as I go under the ebbs and flows
And exhale as I look up into this familiar darkness.
   He is good
   He is gracious
   He is gentle.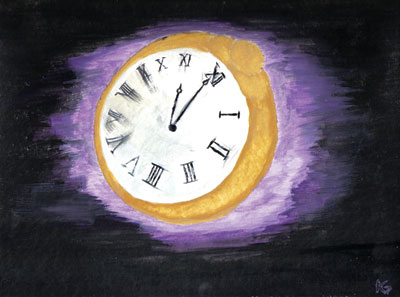 © Kyle G., Clarksville, TN