Perceptions of Love
May 31, 2017
L- Long lasting to those who find it. The truest form of a feeling overtaken by all senses of emotion, and yet fades away from me. The love a teenager claims to feel, leaks out of them as tears drain us of the supposedly bubbly feeling. But how can there be bubbles when you are running out of the liquid love contained within the eyes? The partners that stare into your soul are the ones that see themselves drawing those tears in the dark, watery reflection of your pupils.
O- Omitting others' opinions of the "loving" relationship I have perceived. For this affection turns a blind eye to the reality of my partner's true worth and intentions. A man or woman with sights set only on sex rather than the romantic connection I crave. And even then, as I have been used for my passion in our relationships, the partner does not give back except for the fleeting perception of love.
V- A vile partnership in cases where "love" has opened the eyes of manipulation. My partner tantalizing me with small comments, insisting for anything but the unhealthy model that is plastered on the face of Vogue Magazine. Threatening to leave and f*** other girls than stay true to the innocent, loving girl who cares too much about the person who consistently tears her body down. Yet another void of depression and insecurities opened up through the ugly relationship. The beginning of a cycle that had kept me coming back in fear of losing the love I oh so needed to fill the void. The mistaken perception of love in the face of fear.

E- Enough is enough. For sometimes even what I thought was true love can be exhausting. With monogamy comes the expectation of consistency in one, everlasting relationship. All of which is too long and boring to me, one of the ones who remains with trust issues and a fear of commitment, something that shouldn't, but does develop at the prime age of innocence when many mistakes were made. The time when I thought I was no fragile thing, and yet my skin matched the glass of a porcelain doll. Commitment was never something they had in mind, my cravings for love are suppressed. From then on the fear of relationships take over, saying enough is enough even when enough was never enough, a perception of the pessimistic lover's mind.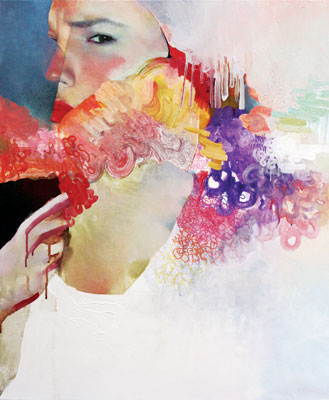 © Winston C., Jamaica Plain, MA