OREO not Juliet (The poet, da guy, and the Oreo)
June 1, 2017
I want adventure, action and suspense                                   A quirky-sarcastic narrative                                               And a twist ending
Through vistas of ridges and canyons you soar.
A more glorious view could not be wished for.
How delectibel                                                                 More splendiferouls than life                                                 An Oreo is.
Leading thousands into battle, you crush all who dare oppose you.
Wading into a sea of foes, the toughest men flee as you yell "Boo!"
I just love da shape you know?
And when you dunk it in the milk-ooooo it's just delish.
Arrows and bolts whiz through the air
taking all who are unaware
But you, the fearless leader of the cause will go on.
For tis your fate to die in bed with a final yawn.
But soft!                                                                         What light through yonda winda breaks?                                 It is da east, and da suga cookie is da sun.

The rebellion slows; you are captured, alas!
And you must watch behind the panes of tempered glass
the suffering of your people, yet you can do naught.
For you lie in deep dungeons, to be tortured and rot.
Nah! Arise again fair moon, and kill da envious sun who is already stale and un-scrumptiously deteriorated with grief, dat thou, da Oreo art far more yummy than she:
You anxiously await the presence of your great enemy–   
Do not listen to da nay-Sayers, since dey are jealous; chocolate chip, oatmeal raisin, snicker doodle and sugar are but piddling and tasteless.          
                                                              
–TO END that which made you fight and sacrifice so desperately.
Yet he has not come.
Maybe they know.
To break you and then make sure that you are truly dead–
Cast them off; go away from dose Satanists.                         It is my lady, O-REO, it is my love!
–BEFORE youhaveachancetoputaknifethroughhishead.
They might strike at any time
the cowards, the devious slime.

Ooooo it gets me mad to hear dose oder cookie lovas.
What's up with dem anyways? Don't they know da Oreo's where it's at?
DA-THE REBELLION mustn't fail
You must not fall.
Dose ignorant swine dat dare to speak of da Oreo in condescendin teims oughta be hanged!                                 Such contumelious (I searched dat up myself) behavior cannot be tolarated.                                                                  Witless maggots! Repulsive nuggets! Atrocious nags!               Swaggering pompously in their false dreams of confectionary prestige! (Oh that's good)                                                   Down with dem all!
However you struggle in captivity,
you may not show signs of passivity.
Alive are you for a reason.
To commit the ultimate act of treason
against the tyranny of a most abominable dictator.
In a duel against whom, you must prove greater.
Live again to fight another day!
You, of all people will surely find a way.
Dat didn't sound very quirky-sarcastic.
I…APOlogize…most profusely; I do what I can.
Man.
Fuhgettabout the twist endin
Pass me an Oreo.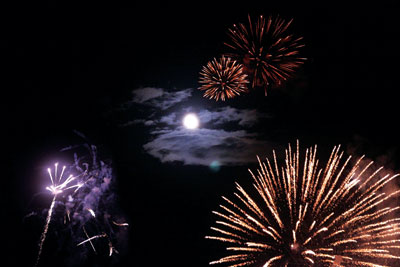 © Meena K., Groton, MA