To The Brother I Never Met
May 18, 2017
I don't remember how old I was the first time I saw your face,
But I do remember how your lips were butterfly wings.
Curled up towards the sun and opened happily.
Inside your eyes was the safeguarded light of
Innocence, as if you didn't know that sun was fated
To one day set.
I had known your name long before I knew
The dimples that adorned your cheeks like cherries
On the first sundae of summer.
Or the copper-wire hair that curled around
Your cherubic face, carved into marble by gods,
Not yet cracked by growing winds.
It broke my heart that you could not
Likewise see my own face, staring in
Pure awe upon your honey-dipped eyes which
Were trapped in one singular great moment.
It breaks because time and tarnish has likely
Greeted your smile since then.
I could lament your name,
I could slather it upon your face
Like a prayer made from tattered scriptures,
Yet you cannot respond or acknowledge
The unrequited love I have for the
Brother I never met.
Until the day you too can see my face,
I'll keep gripping the image of copper-wire hair,
Embraced by sunlight,
Treasured in private,
And unbeknownst to anyone
But me and the idea of you.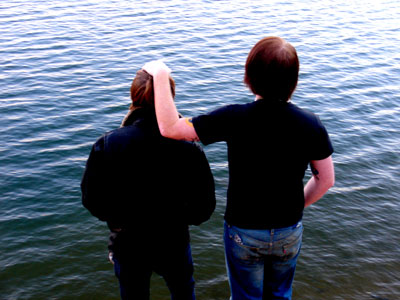 © Michelle B., Blairsville, GA