Four-minute warning!
May 10, 2017
Why are you still here, my dear handsome boy?
You should better run or forget about heavenly joy!
My major warning stands – you dare to seek great danger,
four minutes from now will be your tragic life changer.
Four minutes…
Recklessness is a stony path leading to destruction,
I wonder who could possibly commit your brain's abduction.
This insanity of yours is ripping out my heart,
listen, please, listen, I won't let you fall apart.
Three minutes…
The daylight in your eyes is too precious to be lost,
your smile brightens cities, mountains, oceans far across.
Sandglass is counting down the moments happiness way faster,
take advantage of the time before your choice brings forth disaster.
Two minutes…
Why, my dearest boy, do you crave for such affliction?
Wounds will cover this pure soul as if pain's its addiction.
Screams of suffering will ring inside your youthful head
while grief and misery dress you up in words unsaid.
One minute…
Oh, no, you are still here! It's tragic that you don't feel fear!
The last chance is fading away and I'm filled with sorrow that it will disappear.
Your feet are stepping inevitably on the wrong path
but from that terrible fate there is no going back…
The beautiful Moon is rising towards the sky,
shining with her long blue hairs for the eyes to beatify.
In the Sun's heart a spark bursts into fire,
love conquers his mind and dreams filling him with such desire.
Unfortunately, he could never hold her in his arms
for that his burning fire harms
and her darkness would indeed be erased
if the daylight in his eyes she dared to embrace.
Sadness and agony torment him inside,
his love will last eternity, love beautiful and glorified.
Light will chase the darkness at the dawn of every morning
because he didn't listen to the four-minute warning!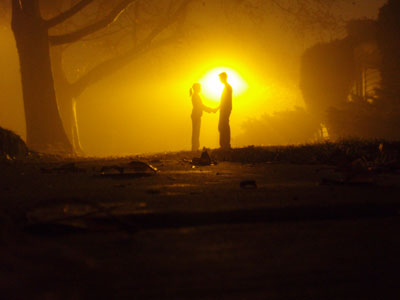 © Tanner H., Kaysville, UT