Summer Vacay 2009
May 8, 2017
Summertime,
last day of school. 
See ya fools,
I am going to Florida!
Wait,
In the RV?
Not on Delta?
No peanuts?
No Coca Cola,
with a sour straw?
The RV?
No cushy, quick ride?
No cozy pillow,
propped against the cold window?
No sister's head,
slumped on my shoulder?
None of this? 
It's the RV? 
Twenty-two hours in the RV?
Six bodies.
Six cranky,
Six sweaty,
Six bickering bodies.
We don't even like each other!
For the fun of it?
A family bonding memory maker?
 
Okay,
I can still deal. 
We are still going to Florida. 
Wait,
What?
We're going to Grandma's house,
in Florida?
Not a hotel on the beach? 
Grandma's House?
In the middle of the county?
Oh well.
 
So,
Over hill and dale we traveled,
Ten hours in,
Hurricane Newman hit the RV.
The poor snack goldfish no longer swimming in their bags,
But littered on the linoleum,
Being murdered under foot. 
Liquids no longer living in their cups,
But finding our seats.
Two forts of blankets,
Adorning the couches.
This RV is a mess.
I love the RV.
Yeah!
We're stopping!
At a KOA?
A campground?
"No gameroom,
No pool,
It's time for bed."
"Are you kidding me?
I've been sleeping all day!"
We couldn't just drive straight through? 
No,
We had to stop at a KOA. 
Pulling in at midnight only to wake up at six,
Why didn't we just stop at the Wal-Mart? 
And to think,
The fun had just begun.
Destination,
Grandma's house,
The outer limits of Pensacola. 
Once again,
So close to the fun,
But not close enough. 
Thirty-five miles inland from sugar white sand and crystal clear water. 
Grandma's door swings open. 
My name will soon be...
"Darlin'."
"Grandma!"
Her dogs in tow,
Energetic as Mexican jumping beans.
"Hi babies,
I am happy to see you too!"
I give in to their excitement and sit on the floor and allow the tongue bathing to begin. 
The pleasantries proceed. 
Nice night,
Like clockwork,
Dinner and a home movie,
Then off to bed. 
"Goodnight." 
"Good morning,
Breakfast is ready."
Brace yourself,
Chaos is about to erupt. 
Five kenneled dogs were about to be released,
Like greyhounds being let out of the gate,
After the elusive rabbit. 
Here they come.
Sharp nails.
Tile floor.
Metal dog tags on a chain collar.
Metal bowls.
Hard kibble.
Deafening!
Picture me,
Pillow covering my head,
Trying to block the world for five more minutes. 
Oh,
I give up. 
I guess I'll go join the party. 
"Fire,
Fire,
Fire!"
As I walked into the kitchen,
Grandma's new smoke detector alerting us,
That someone's bagel had past ready and morphed into a hockey puck,
Fit for the goal of the trash can. 
Bread never seemed to make it to the dining table at Grandma's house. 
"Darlin'." 
"Morning Grandma!  Sure,
I'll have a bagel." 
Time for another tongue bath!
"Hi babies!"
Day One.
Grandma's house equals,
Dinner's out,
A few trips to Sweet Frog,
Lots of tongue baths,
And days at the beach.
What a week! 
RV repacked,
Hugs and kisses given,
Goodbye tears flowed,
Keys in the ignition,
Dead battery. 
"Darlin',
Looks like y'all are staying." 
"Thanks Grandma,
I love you too." 
I will NEVER own an RV,
Ugh!
"Hi babies!"
Time for another tongue bath.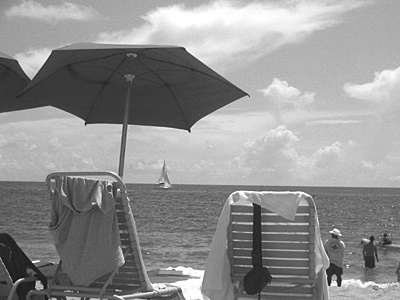 © Emily O., Boynton Beach, FL