Your Type
May 7, 2017
a person is made up of 206 bones, 2 lungs and one heart. they are birthed with their own distinct personality, some introverted, some extroverted. we are creatures continuously shapeshifting and conforming. our feelings will take us to the moon where we will soar and live amongst the brightest of stars.  gravity will be our enemy and we will see the infinite possibilities of space and time.  i am made up of 206 bones, 2 lungs and… 
humans have one heart. one heart to love with and one heart to feel with. i chose to use my heart's sacred gifts on you.
why you? you are a man of few words, argumentative and whimsical. why you? you had caught my eye when i noticed that you had similar features to that of my favourite actor. 
why you? you have specific expressions that have been ingrained in my mind and i memorized that your eyebrows go up and you smirk when you are being sarcastic. 
why you? you have skin that becomes painted with red as mine does too because embarrassment is something we felt together.
why you? you melted my body and sculpted it into something you wanted.
why you? for you had caused an internal war.
you were your own dictatorship. an army of one, but the strength of a million men. you simply shifted me into the unrecognizable. physically i was the same but if you were to tear up my skin and examine each organ the machinery inside of me was obsolete. i was a robotic figure of myself
my eyelashes were painted with my black escape. my skin was a warrior for the all the years it had been beaten and falsified, a powder that does wonders if you allow it to become you, you are not you, he becomes you.
my heart is stapled into my lungs. it has fallen and my breath has been replaced by beats and my beats have been replaced with emptiness. a fatigue has overcome me and i realized that he is not worth the downfall of my vital ideals and ethics. he is not worth it if my verbal words mean nothing and my written word is scraps, taken from the landfill where each ripped piece of paper with the words "admiration, love and security" have found a new home.
i self destructed into a million broken pieces of glass each coloured with blood and words of animosity scratched and placing themselves over the image that was once pure beauty and i found that hypocrisy was flowing through the shallow halls where interaction was merely nothing but a concept of the insanity. 
and after years of laborious effort and chasing after someone who did not want to be sought after, you decided to say "oh, she's not my type"
the past was a time where i delved inside your mind and my heart leaped into yours. a little bit of you still lingers in my heart, but i no longer yearn for your company, your presence and today i'm glad that i am not your type
i am myself, for you do not make me.  i will sculpt myself with the clay that i choose and i will become a beautiful ceramic in a kiln that does not burn me, but rather allows me to radiate with a delicate and captivating disposition. i will throw you my dark colors and you will repay me with my brights. 
we are now only acquaintances, passerbys in the mornings and afternoons.  we are birds of separate flocks, indigenous people whose hearts were meant to soar separately for togetherness was not a familiar concept to our 206 bones, 2 lungs and our one heart.  i wish you well, and i hope you find someone who is, "your type"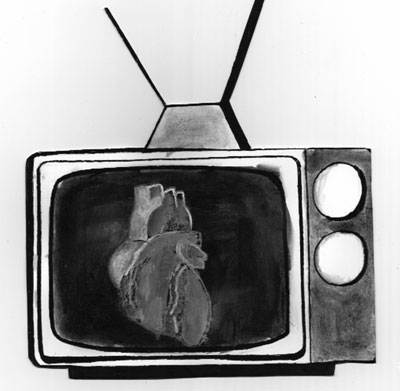 © Brooke S., Indianapolis, IN