Unwanted
April 7, 2017
My dad's rosy red nose absorbs the cold blusters otherwise blown to chill the whole body. A nose is usually meant to create a gentle feel, but his nose is like chaos of rebellion in the middle of normalcy. I don't mean to be rude, I don't mean to criticize, critique, or call out a facial injustice. But, my dad's nose carries the trait my siblings and I have all pleaded not to feel.
My brother feels eyes roll off the steep bridge in the middle of his face. This utterly undesirable trait - plastered on his face. Now, his nose is covered by a wiry beard and artistically molded mustache. He resembles Jesus Christ without the gentle curves that usually lead to faith and hope. He holds faith in his heart, but toughness on his face.
My sister's nose is like a version of pinocchio. The more she stresses over shape and size, the further it grows. She stares my father down at dinner then goes crosseyed to compare. Eyes dash to my mother in hopes she finds a similarity.
I fall victim to a confusing mix. Somedays I call upon my hair to sway across my face as a distraction to those that look. Other days my mother braids my hair so my face can be seen, so my nose stands out, so my face shows its natural beauty regardless. We cast judgment on a nose, but all beauty is like the sun, shines when it chooses to show, but grey when it doubts its strength.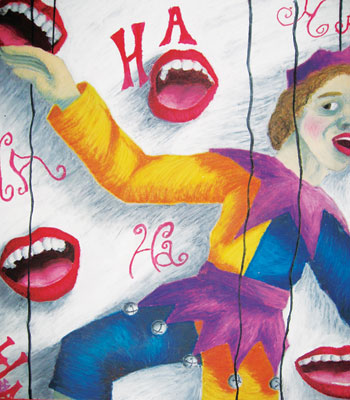 © Carollynn G., Hawthorne, NY