Tribute to a Cardinal Love
March 26, 2017
The icy metal in her hand, she walks numb through on a trail of madness.
The cold blended with her body, as she walked barefoot in the snow.
She gripped the icy metal in her hand, heartache possessing her.
The pain, she aches for him, he had to go; so in the snow he stood under that willow.
The willow, their love, was supposed to be strong that love; caused her pain, the final deathblow.
She only wanted the red to enclose.
The red, the scarlet red, it blinded her; the struggle, the strife, the end.
The white turned to red; the red covered everything, flooded like sweet wildfire.
Under that willow, a scarlet angel whispered to her, sang to her.
That undying, determined desire, but one thing was required.
The scarlet angel spoke words that relit an ire, a burning fire.
She was drowned in the fire, red fire.

The cardinal red, the red with wings, it brought peace and hope, and determination.
"You shall live, you shall live, there is life beyond this; the pain will stop, there is life, you shall live."
The promise of resurrection, promised to a dying woman, desperate.
Her love, her love, the red would bring her to her love, the angel would give.
Then the knife stopped, the pain, ceased the burning corrosive.
The angel would let her relive.
The eyes opened, her eyes were blurred; the white light flooded, flowing in waves.
She saw the outline of a man, a dark man, eyes shining.
"You are here, you are here," he chimed. "Found in the snow, I called you, I saved you."
She saw red, she saw the man dressed in red; her vision aligning,
Her vision refining, he advanced not to startle; her silver lining
Was her angel, her man in red.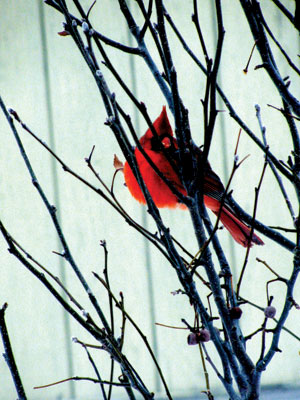 © Trent M., Centerville, IA