Polaroids
April 3, 2017
my childhood;
a series of snapshots telling the same story
in different backgrounds.
it is skinned knees and ripped jeans from
scaling pera trees and intense
games of runner-and-catchers
with the neighbourhood kids.
it is the sweet coldness of thambili and digging
into the soft white flesh of the fruit using
spoons fashioned from its husk.
it is the warm sea breeze grazing over
sun-kissed skin.
it is the feel of rough cement under
tiny feet as we run barefoot across the terrace.
my childhood;
an abrupt shift in lighting,
the snapshots changing into darker cityscapes.
it is smog coating the insides of my mouth.
it is the four walls of my room plastered
with magazine pages of dreamy new worlds.
it is forgetting my mother tongue-
Adopting a new language that
drives a bigger wedge between
mother and child.
it is not seeing my father except
during the fifteen minute drive to school.
it is the 5pm rush hour;
busy souls with cold hearts stuck in this mechanical city
on the brink of the new world.
my mother never told me to value my
childhood because the fluidity of time
never struck her until it was
too late.
in the little alcove we'd shaped
in the suburbs of her hometown,
it was hard to notice the pace with which
the world around us
changed.
but the change was there all the same.
and I wonder if my kids will ever
have even a fragment of the childhood I had,
or are they
doomed to grow up in this harsh, metallic city-
the bastard child of development and the western world-
surrounded by the dense forest of skyscrapers
that are only just starting up in these polaroids.
(lowercase intended)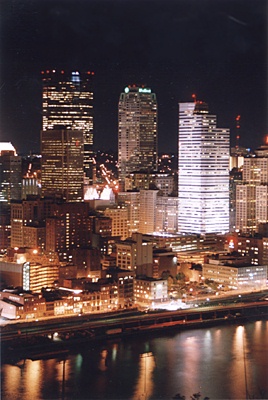 © Dena G., Pittsburgh, PA