17 Forever
March 16, 2009
I no longer care that he leaves me hurt.
The feeling now is only disappointment from thinking it was over.
There's confused thoughts as to why I had a false belief.
I try to find comfort in saying its not my fault for believing.
But then I think about how something of rage doesn't end.
It had been two weeks of no arguments or fights.
Driving down the road I asked myself if things were building up and waiting to show without warning.
If you would've seen that I was pissed off and not kidding around we wouldn't be in this mess.
I've wanted to get out of there for four years, but now that mom is sick, it makes it hard for me to go.
Mom spoke of divorce but financially and emotionally she wouldn't be able to handle it.
He only hurts me, and now that im old enough to be on my own, its not worth splitting up.
Being on my own brings a sense of fear and more stress but it also brings a relief from pain.
Its now the only choice I have and being 17, with two years left of school, it's a challenging choice.
No matter how big the struggle, I know I'll find my way through, even if it takes all I have.
Without a doubt I now know that I'll be 17 forever.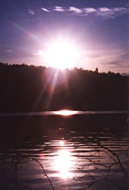 © Laurie T., Hopkinton, MA