The things that people say. My God, the things they'll say to each other.
March 15, 2009
Words sink through me like a diving rock, hurtling for the earth.

No, I don't care.

Yes, I do care.

Of course I do.

A combination of two simple words,

Two basic sayings,

Will strike through.

A blend of three ugly terms,

That knock my breath away,

Because I know they're true.

Then four words,

They scream out and slap me,

They scold, they hurt, they abuse.

They are evil. But they are true.

A sentence. Disgusting. Telling me what I am.

Telling me what to do.

A run-on. Even worse. A sentence dragged on to impose pain.

Torture by means of tone.

Two sentences. Hurtful, angry, upsetting, and harsh.

But they're both still true.

Water splatting onto my face as a paragraph forms.

Words from the mouth and into the air,

Carving patterns into nothingness.

A full on paragraph. A rant. A tirade. Everything right and everything true.

Kettle's screaming with those voices.

Words being pronounced out of hate and not love.

Love. Is it even real? I think not.

Finally, it's over.

Wait three seconds before breathing.

In and out.

Dear God. Thank you, thank you, thank you.

The horrible words, the evil vocabulary, the nastiness I hear.

I picture the spelling, some combinations are forbade.


Disgusting,

Agonizing,

Massacring,

Never-ending.


Yells,

Outrage,

Ugliness.


Wails,

Odium,

Repugnant,

Destruction,

Sadness.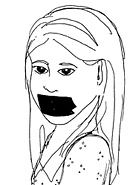 © Liza M., Vineland, NJ